Article
Edit
|
History
|
Editors
Virtuacon13
Quick Links
What?
Virtuacon is an all-virtual worldwide RPG gaming convention utilizing free online tools to bring gamers together for The Best 3 Days in Virtual Gaming. Virtuacon is the convention you attend from the comfort of your own home - but run much like a traditional convention with slotted game events, industry guest speakers and contests galore. With 85 games being offered by world-class GMs, you can be sure to find something great to play! We especially welcome new players to the hobby - come and experience the rich world of role-playing with a community who would love to count you among our friends!
When?
Virtuacon runs from 16:00 (UTC) October 18th until 22:00 (UTC) October 20th. Friday, Saturday and Sunday are our days of operation and we'll be slotting games and events around the clock.
Who?
The event is being run and coordinated by RPG Geek. So the focus is squarely on Role-Playing gaming with a few boardgames (think Werewolf and similar games) thrown in for good measure. We're lining up more than 60 Game Masters who will run everything including Pathfinder, Old School D&D, Eclipse Phase, Fiasco, FATE and Dungeon World. We'll see a bit of everything during these three days and there will be ample opportunity to get into a game.
Cost?
None. This is a free event coordinated at RPG Geek and run by volunteers. Consider being part of The Experience!
Accounts Needed
You will need to have a 'Google+' account to run Google Hangouts. Having a Roll20 account is helpful if you are the Game Master and using those mapping tools, but not strictly needed. You will need to have an RPG or BGG Geek account (free) to sign up for the event - you can get your free Geek account here: http://www.rpggeek.com/register (if you already have a BoardGameGeek account, it works fine as-is on RPG Geek as well).
Equipment Needed
To participate, you need a computer connected to the internet capable of running Google Hangouts. Hangouts is our online platform which allows players and the Game Master to be seated around a "Virtual Tabletop". In addition, some games will feature an add-in for Hangouts called Roll20. This provides the mapping tools and die-roller needed for some tactical games. We've been experimenting (which really means playing lots of RPGs!) and have determined that you can connect with almost any computer that has voice (microphone) input. It works well with IE, Firefox and Chrome and we've run games on a Mac (using Safari), PC/Windows, Linux and via mobile tablets such as an iPad.
Please see our Technical Support Page for Google Hangouts
You can see what a typical Roll20 session inside Google Hangouts looks like:
It's the next best thing to being at the table with your friends!
Game / Panel Slots
Each game slot is 4 hours and panel slot 1 hour. You will notice that the 11 time-slots are spaced out by 5 hours - leaving 1 hour between games and panels (in case one game or panel runs a little long or you need a break between two successive slots, etc). The panel slots also have X.5 slots which are two hours in.
We are having multiple games running during each of the 11 time-slots. Each game has a number of virtual seats - willing players are taking a 'virtual ticket' to a seat for a given table. This reserves you a spot at the table - the Game Master is counting on people who take a ticket for their game to show up. We are not using a 'generic tickets' concept which you may have seen at other conventions.
All games are specified in Universal Coordinated Time (UTC). Go here for the current UTC: http://time.is/UTC
Here are the available time-slots (with local time in some common worldwide cities in 24-hour format ... subtract 12 to get PM times)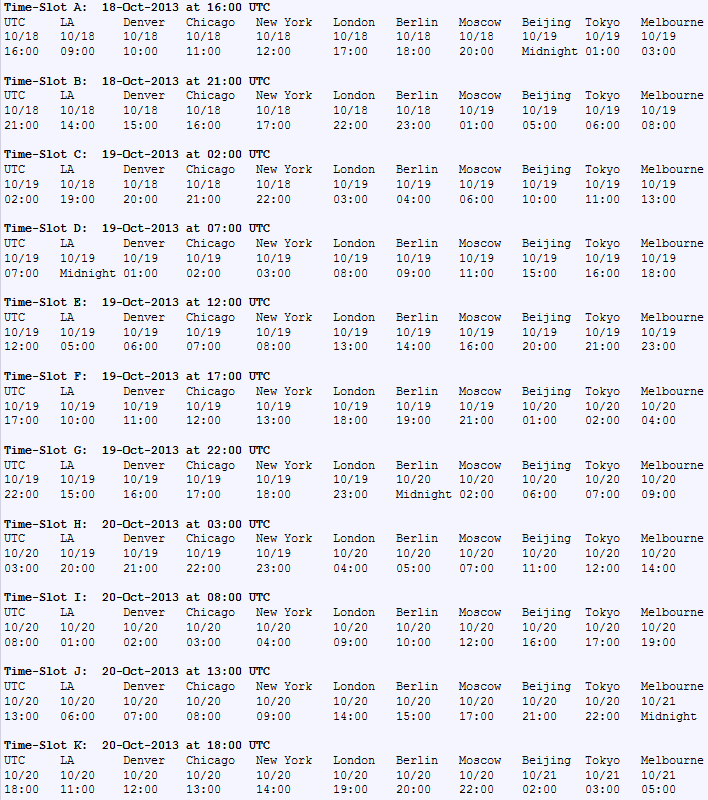 Games
We have 85 games spread across the weekend. We sort them by time-slot and provide enough information that you should be able to find something to suit your mood! Our list of games where you can signup to play is located here:
Virtuacon '13 Player Signup Geeklist
Time-Slot

Game

GM

Status

Time-Slot A 18-Oct 16:00 UTC

Shadows of Esteren
We Be Goblins
Brain Soda
Pathfinder PFS
D&D 4e CONTINUES OVER TIME-SLOT B

nemesis13
vas137
Shadow Hexagram
NebisTS
Mustardo666

Full
Full
Full
Full
Full

Time-Slot B 18-Oct 21:00 UTC

CONTINUED FROM TIME-SLOT A D&D 4e
Eclipse Phase
Pathfinder Society
Dungeon Crawl Classics
All For Me Grog
We Be Goblins!
Pathfinder PFS
Pathfinder PFS CONTINUES OVER TIME-SLOT C

Mustardo666
TheEbonyTurtle
MikeHadfield
scorcha
jshaffstall
vas137
parrais
kinevon

Full
Full
Full
Full
Full
Free seats
Full
Full

Time-Slot C 19-Oct 02:00 UTC+

CONTINUED FROM TIME-SLOT B Pathfinder PFS
Psi-Punk
Numenera
Pathfinder PFS
Microscope
Pathfinder PFS
Dark Conspiracy
D&D Next
Golden Sky Stories

kinevon
Munkwunk
Octavian
doctor kash
edige23
kroama
Lemmotlow
lorddillon
Michael Hopcroft

Full
Full
Full
Full
Full
Full
Full
Full
Full

Time-Slot D 19-Oct 07:00 UTC

13th Age

chaosfang

Full

Time-Slot E 19-Oct 12:00 UTC

Camp Myth
Chronica Feudalis
Dungeon World (low-bandwith)
Pathfinder
StarWars D20

sdonohue
Grondhammer
Gorgoneion
Swyrlyn
Tyraziel

Full
Full
Full
Full
Full

Time-Slot F 19-Oct 17:00 UTC

Pathfinder PFS
B/X Basic Dungeons & Dragons
AD&D 1e
Fiasco
Don't Rest Your Head
Pathfinder PFS
Fate Core
Pathfinder PFS

MikeHadfield
wavemotion
vosarnath
znirp81
shawnssica
nukuv
Rishi
John Kennet

Full
Full
Full
Full
Full
Full
Full
Full

Time-Slot G 19-Oct 22:00 UTC

Labyrinth Lord
Doctor Who Adventures in Time and Space
We Be Goblins!
Star Wars (WEG D6 version)
Star Wars (WEG D6 version)
Dresden Files
Pathfinder PFS
Pathfinder PFS
Pathfinder PFS
Killshot

Wargamer777
Michael Hopcroft
karpouzian
cf_skeeve
GM_Daniel
sorinkat
Gilabrezu
Adaeoran
poundpuppy30
BrokenWarden

Free seats
Full
Full
Full
Full
Full
Full
Full
Full
Full

Time-Slot H 20-Oct 03:00 UTC

The Quiet Year
Lady Blackbird
Pathfinder PFS
Pathfinder PFS

baychang
vestige
doctor kash
kroama

Free seats
Full
Full
Free seats

Time-Slot I 20-Oct 08:00 UTC

Fate Core

bluetyson

Full

Time-Slot J 20-Oct 13:00 UTC

InSpectres
Dungeon crawl Classics
Fate Accelerated
Pathfinder PFS
Pathfinder
Monster of the Week
Pathfinder PFS
Mouse Guard

Kwakkie
MikeHadfield
edige23
not2fear
wavemotion
MonsterMike
John Kennet
IndyRick

Full
Full
Full
Full
Full
Full
Full
Full

Time-Slot K 20-Oct 18:00 UTC

Pathfinder PFS
Mouse Guard
Pathfinder PFS
We Be Goblins!
Pathfinder PFS
Pathfinder PFS
Fiasco
Call of Cthulhu
Monster Kart Mayhem - First Race
Monster Kart Mayhem - Second Race
Mermaid Adventures
Pathfinder PFS
Dungeon Crawl Classics
Labyrinth Lord

Yasumoto
lorddillon
Gilabrezu
karpouzian
DaveGM
nukuv
scorcha
Barad_the_dwarf
Munkwunk
Munkwunk
sdonohue
Blackjoy
TimCallahan
chrismata

Free seats
Full
Free seats
Free seats
Full
Full
Full
Full
Free seats
Free seats
Free seats
Free seats
Full
Full

Panels
Here are the confirmed panels with the panelists.
Time-Slot

Panel

Panelist(s)

Time-Slot A.5 18-Oct 18:00 UTC

Kickstarters and Publishing

Fred Hicks (Fred Hicks)

Time-Slot B 18-Oct 21:00 UTC

Game Design Process

Emily Care Boss (Emily Care Boss)
Redd Cohen
Jay Little (Jason Little)
WJ MacGuffin (WJ MacGuffin)

Time-Slot E 19-Oct 12:00 UTC

Applying Gamification to Other Industries

Cavin DeJordy
Jay Little

Time-Slot E.5 19-Oct 14:00 UTC

How to be a better player

Lowell Francis (Lowell Francis)
Jay Little
Brie Sheldon
Filamena Young (Filamena Young)

Time-Slot E.5 19-Oct 14:00 UTC

Old-Skool Sensibilities

Ernie Gygax (Ernie Gygax)
Tim Kask (Tim Kask)

Time-Slot F 19-Oct 17:00 UTC

Accessibility in Gaming

Russell Collins (Russell Grant Collins)
Jacob Wood (Jacob Wood)

Time-Slot F.5 19-Oct 19:00 UTC

Self-publishing

Johnn Four (Johnn Four)
Richard Hetley
Jason Pitre (Jason Pitre)

Time-Slot F.5 19-Oct 19:00 UTC

Fitness & Gaming - 45 minute talk, 15 min Q&A

Patrick Renie (Patrick Renie), Paizo

Time-Slot G 19-Oct 22:00 UTC

Managing the Playtesting Process

Redd Cohen
Jay Little
Jason Pitre

Time-Slot G.5 20-Oct 00:00 UTC

Role-playing in the Digital Age

Lowell Francis
Andrew Goenner (Andrew Goenner)
Steve Sigety (Steve Sigety)

Time-Slot H 20-Oct 03:00 UTC

How to Handle Difficult Players

Lowell Francis
Andrew Goenner
Steve Sigety
Sherri Stewart (Sherri Stewart)
Filamena Young

Time-Slot I 20-Oct 08:00 UTC

Worldbuilding

Paul Baldowski (Paul Baldowski)
Chris Tregenza (Chris Tregenza)

Time-Slot J 20-Oct 13:00 UTC

How to Hire Artists

Liz Danforth (Liz Danforth)
Redd Cohen
Eloy Lasanta (Eloy Lasanta)

Time-Slot J.5 20-Oct 15:00 UTC

RPGs w/Kids

Andrew Goenner
Eloy Lasanta

Time-Slot K 20-Oct 18:00 UTC

Pathfinder Society - Ask Me Anything

John Compton (John Compton), Paizo

Contests at VC13
In addition to a full slate of gaming, we will have a number of contests going on throughout the weekend.
Technical Help
You don't need previous Google Hangout or Roll20 experience. Technical Assistance is standing by to help!
Please see our Technical Support Page for Google Hangouts
Virtuacon Etiquette
Be sure to read our rules and adhere to them: Virtuacon13_etiquette
Virtual Swag
We've got some cool RPG Geek virtual swag for being involved with Virtuacon.

- Virtuacon '13 - Oct 18-20th, 2013 at RPG Geek! (Given to all participants)


- Virtuacon '13 - Game Master (Given to Game Masters)


- Virtuacon '13 - Event Staff (For those running the event)

- Virtuacon '13 - Contest Creator

- Virtuacon '13 - Champion
And be sure to check out our wall-paper (1920x1080) sized promo image which you can download here.
How do I sign up?!
Player signups will take place starting August 26th, 2013 and the signups will take place on RPG Geek (so you will need an account). There will be a post made to RPG Geek and will be tweeted out by @rpggeek, posted on the RPG Geek Facebook Page, G+ page and generally be visible to the world. On the 26th, it shouldn't be hard to find us. This wiki page will also be updated with the signup link so you can always check back here.
More Google Hangout RPG Goodness
Mostly to wet your appetite (these are all from RPG Geek regulars):
Sponsors
Virtuacon would like to extend a thank you to our gracious sponsors, who together have provided us with some great prizes to give away to lucky players and GMs!
If you are a retailer, distributor, publisher or game author and want to donate a little something-something to the event for prizes, we welcome the offering. Since this is a virtual event, we're more than happy to take PDF credit as prizes. We will be sure to mention all such sponsors in our flyer and hope that whatever you donate will come back to you 10 fold in good karma. Please contact dave@rpggeek.com to discuss.
Can I Help?
Absolutely! Slots for Game Mastering are now closed, but we are still looking for last minute Industry Speakers and contest creators. If you have any prizes you would like to donate, we'll take those right up until con-time. You can contact me directly at dave@rpggeek.com
Also, if you want to help with the planning and running of the event, you can join our Virtuacon Guild where we are organizing various aspects of the convention: http://rpggeek.com/guild/1631
Can I promote Virtuacon?
Hell yes! If you are involved with other RPG communities, please let them know that we would love to have them come help with this event! You can point them to this wiki page which we will keep updated. Feel free to use the following banner image to promote the event or use the full promo image at the top of the page. If you tweet about the event, please include @rpggeek and/or #Virtuacon so we can find it quickly and give it some re-tweet love. We also have a full page of promo images you are free to use to help promote Virtuacon.
[What Links Here]